The Oldest Full-Line Homeopathic Manufacturer in the U.S.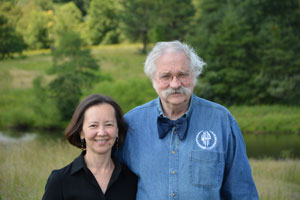 Washington Homeopathic Products got its start in 1873 as a homeopathic pharmacy in Washington, DC where it served the local communities, including the National Homeopathic Hospital. In the last 27 years, Washington Homeopathic Products has grown from a storefront pharmacy to one that is now serving more than 65,000 customers in more than 100 countries. Our clients include practitioners, MDs, DOs, NDs, midwives, veterinarians, pharmacies, retail stores, distributors, and the general public. All of this was accomplished under the leadership of Joe and Linda Lillard and resulted from their dedication to provide safe, effective and affordable medicines.
Joe learned the process of manufacturing homeopathic medicines as an apprentice to the previous owner of Washington Homeopathic Products. Then in 1991, the Lillards purchased the Maryland-based business. In 2004, the business was consolidated in Berkeley Springs, WV where they resided. Two years later, Washington Homeopathic Products bulk manufacturing expanded into a 12,500 square foot custom-built production facility and warehouse located next to the Appalachian Mountains in a beautiful piece of land in the Morgan County Business Park south of Berkeley Springs. The entire company, including customer service and administrative offices, were moved there in December 2009. Solar panels were added to the facility in 2014 – making it the only solar powered homeopathic manufacturer on earth.
Since 1991 the business has transformed from a company with five employees and an annual gross income of $150,000.00 into a multi-million dollar operation with approximately 25 employees. The business continues to grow as a result of web-based sales, superior product quality, and customer service dependability. Washington Homeopathic Products manufactures products for over 20 private label companies worldwide in addition to its own extensive line of homeopathic products.
All source materials for our remedies are selected with great care. All plant materials used to manufacture homeopathic medicine must be organically grown. Many plants used to process remedies are grown on local West Virginia farms. In fact, the raw material for Thuja (a remedy useful for warts) has been provided for more than a decade by an Arbor vitae tree in the Lillards' front yard. WHP employees collect the raw material for WASHINGTON HOMEOPATHIC PRODUCTS's leading product Rhus tox (a remedy for the treatment of poison ivy) from the Lillards' farm.
Washington Homeopathic Products received The Governor's Commendation Award for International Market Entry in 2004, 2005, 2006, 2007, and 2011. Washington Homeopathic Products was recognized as the US Small Business Administration's 2007 WV Small Business Exporter of the Year. Joe was also selected as the US Small Business Administration's 2009 Business Person of the Year for West Virginia and was recognized by President Obama in Washington, D.C. Washington Homeopathic Products supports Homeopaths Without Borders, an organization that brings homeopathy to countries around the world, by providing homeopathic pharmaceutical training to lay people, doctors and pharmacists in locations with underserved communities. Joe Lillard was a board member of this organization for 15 years as well as having served on the National Center for Homeopathy's board for 37 years. In April of 2016, Joe Lillard was honored with the Julian Winston Service Award, which honors a person who has contributed substantially to the National Center of Homeopathy in a voluntary capacity. Joe sadly passed away the following month in May of 2016.
Although Joe is sorely missed, Linda, Joe's wife, along with Belle and Wais, Joe's daughter and son-in-law, proudly honor the company's legacy and Joe's dream of providing homeopathic medicine to customers throughout the world by continuing the homeopathic business.
The high quality products and excellent customer service of Washington Homeopathic Products have resulted in a consistent sales increase year over year. The increase in business can be attributed directly to web-based orders, which naturally led the company into the global market. In today's marketplace Washington Homeopathic Products is incredibly unique. A person rather than an automated system provides customer service and orders are generally shipped within 24 hours of receipt, with more than 1,500 shipped monthly. Additionally, Washington Homeopathic Products offers hundreds of X & C single remedies hand succussed to a 200C (with many offered in higher potencies such as 1M and 10M). Remedies are available in pill or liquid dosage form. Customers are also able to choose from a wide variety of bottles and pill sizes. Also available are topical products, a cough syrup and the ever-popular homeopathic remedy kits. Washington Homeopathic Products sits apart from its competitors in the range of products offered, the quality of customer service provided and its long history as the oldest full-line homeopathic manufacturer in the United States.